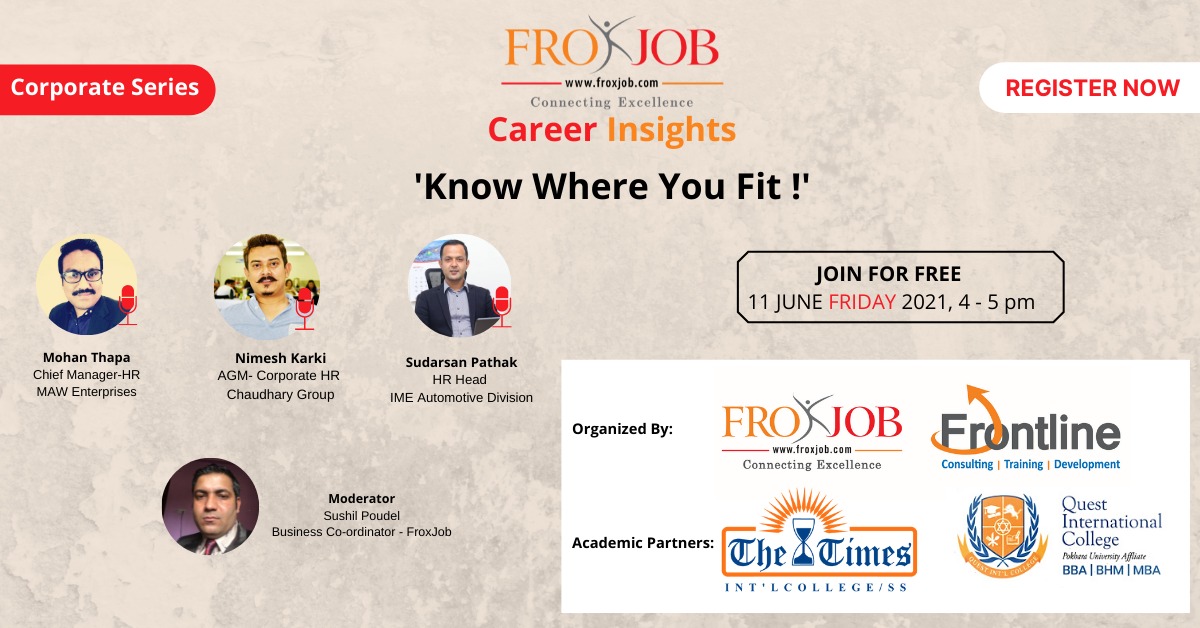 Webinar on 'Know Where You Fit' by FroxJob Career Insights
On Friday, Date 11 June 2021 FroxJob Nepal organized a Free Webinar on 'Know Where You Fit.' The event was focus on various issues faced by job seekers and professionals. This event encourages the participants to discover or develop their careers for a better future. This was Free Webinar conducted by FroxJob where many participants have participated Via Zoom Webinar and Facebook live.
The webinar was started by Ms Seema Lamichhane, Business Development Executive of FroxJob - Chitwan branch moderated by Mr Susil Poudel, Business Co-ordinator, Froxjob and the facilitators were Mr Mohan Thapa, Chief Manager HR - MAW Enterprises, Mr Sudarsan Pathak, HR Head - IME Automotive Division, Mr Nimesh Karki, AGM Corporate HR - Chaudhary Group.
In the Webinar, a Welcome speech was given by Ms Seema Lamichhane and Mr Sushil Poudel. They welcomes all participants with their warm words and threw enlightenment on the event topic.
The facilitator Mr Mohan Thapa was representing the automotive sector in the webinar. He was directing on how can one make his/her career in the corporate sector.
Similarly, Mr Sudarsan Pathak was outlining how the company analyzes the performance of an employee and what are the advantages one gets when they perform great.
Likewise, Mr Nimesh Karki was discussing how to get into the corporate world and how to establish one's career in the corporate sector and how all the sector is opening their vacancies after lockdown.
Later on, after the facilitator finished the presentations, there was a Q&A session of about 30 Minutes, where the facilitator solved the queries delivered by the participants and helps them to clear doubts.
After Q&A session, closing remarks were given by Mr Sushil Poudel where he thanked the participants for making out time for the webinar on such an occupied day and give hint to the participants that it is just the beginning and many more programs will be organized in the forthcoming days.
The whole session was very informative and relevant to the context of career opportunities in the corporate sector.
Please click below to watch the recording of the webinar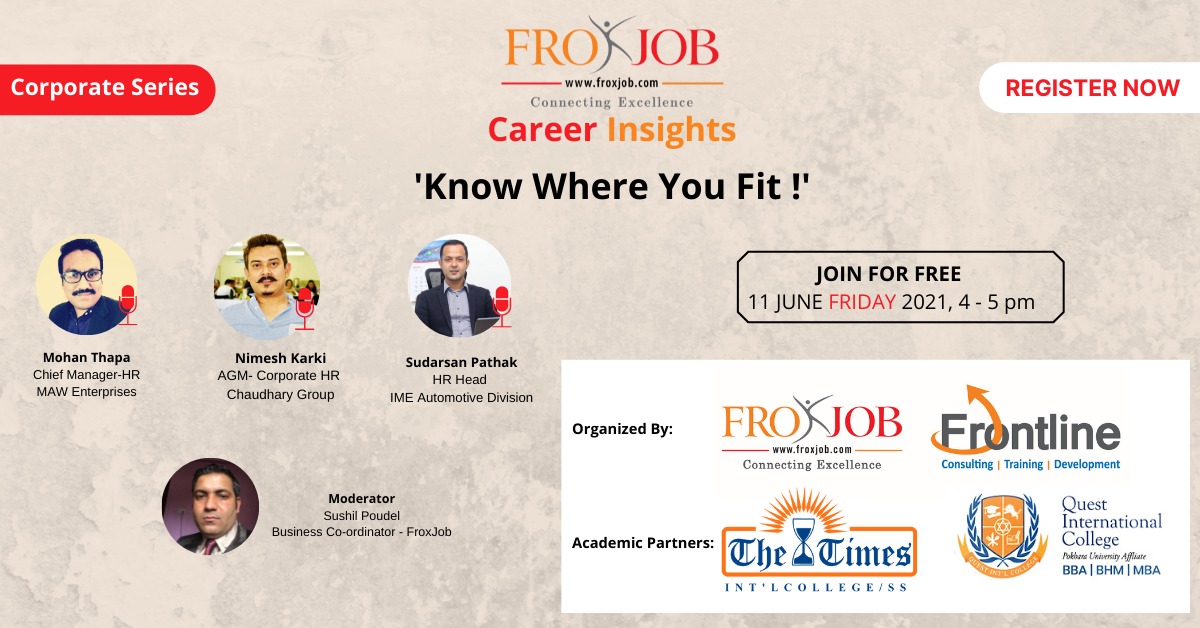 https://www.youtube.com/watch?v=O_kPfS38h8o