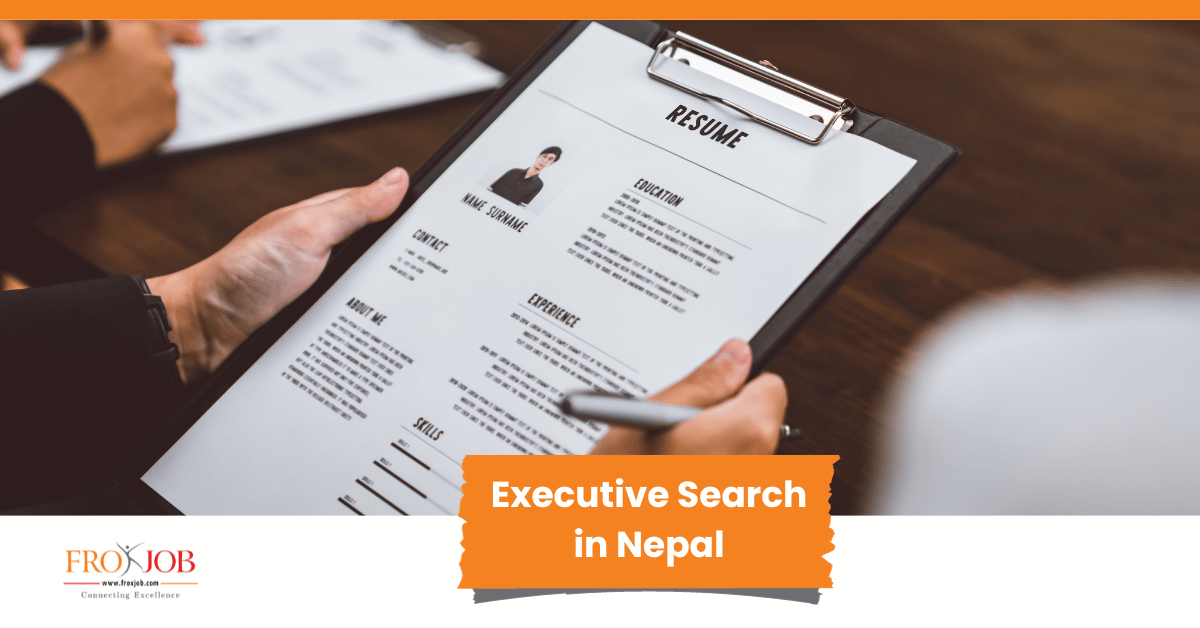 The Power of Executive Search in Nepal- Elevating Your Recruitment Strategy

Recruitment lies at the heart of building a successful organization. It involves identifying, attracting, and retaining top talent. In Nepal's competitive business landscape, talent is the driving force. Executive search firms play a vital role in finding top talent. At FroxJob Pvt. Ltd., HR consulting company, Executive Search transcends traditional hiring. FroxJob helps provide tailored talent solutions for Nepal's corporate landscape.
The Essence of Executive Search in Nepal
As a leading HR Consulting Company, FroxJob specializes in Executive Search services. These extend beyond conventional recruitment methods. We understand that high-impact leadership positions need a unique approach. Our experienced team will assess the company's needs and find candidates who are not only qualified but also a good fit for the company culture.
Mapping the Prospects
The Executive Search in Nepal begins with an understanding of the organization's goals. Froxjob maps the landscape of potential candidates, considering their experience, skills. Then alignment with the company's strategic direction. Froxjob's aim is to deliver candidates who can step into leadership roles. They help drive your company's success forward.
A Customized Approach
One size does not fit all in executive recruitment. FroxJob tailors its approach to match your organization's unique requirements. Whether for CEO, CFO, or other executive-level positions, Froxjob's agile and precise approach ensures the perfect fit for any leadership team.
Beyond Skill: Cultural Alignment
Effective leadership transcends skills alone. Cultural alignment is crucial to fostering a harmonious and high-performing team. Froxbob, doesn't assess candidates based on their resumes only. Froxjob also checks potential to integrate into the company's culture, values, and long-term vision.
Reducing Recruitment Strain
Recruitment is a demanding endeavor, often stretching internal resources thin. Froxjob's Executive Search service in Nepal relieves organizations from the recruitment strain. This enables teams to focus on core business functions. The dedicated professionals handle the intricate process and guarantee a seamless hire.
End-to-End Expertise
With a robust track record spanning years, FroxJob's expertise in the HR world is unparalleled. Its Executive Search service leverages this experience to secure the best talent available. Froxjob understands the intricacies of Nepal's corporate landscape. This enables to deliver candidates who can navigate its challenges and drive growth.
Conclusion
In Nepal's changing business world, finding the right leaders to steer the organization is of prime importance. FroxJob Pvt. Ltd.'s Executive Search service in Nepal takes recruitment beyond a transactional process. We lead a journey to find leaders who are not skilled, but also aligned with the company's ethos. The commitment to excellence ensures that the leadership team becomes the cornerstone of the success story.
For a comprehensive Executive Search in Nepal experience that elevates your organization's growth, partner with Froxjob Pvt. Ltd..